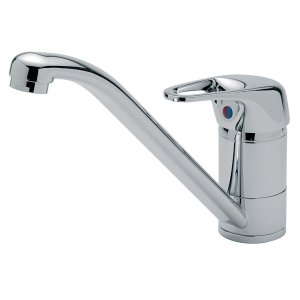 Water efficient monobloc kitchen tap. Fitted with regulator or tapmagic insert.
TM-175
Our range of low flow kitchen taps are fitted with regulators or tapmagic inserts as standard and can be used on either pressurised or gravity fed water supplies.
Flow regulators can reduce water flow to 3.5, 5 or 6 litres per minute depending on your requirements. Alternatively, tapmagic is unique in offering dual flow: opening the tap a little gives a strong but water-saving spray for washing utensils or vegetables – while opening the tap further bypasses the spray mode to fill the basin quickly; water savings of over 50% have been independently proven.
Many other options available. For more technical information and advice on water saving products please contact our Water Saving Department on 01484 463334 or email water@greenbuildingstore.co.uk..
| Title | Type | |
| --- | --- | --- |
| GBS Water Saving Washroom Brochure 2015 | Brochure | Download |
| WATER SAVING PRICELIST | Pricelist | Download |