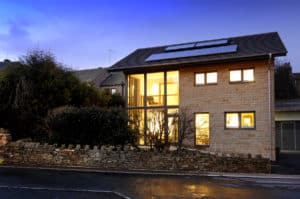 Update February 2019: the situation for local authorities has changed since this blog was written, meaning that there are now no planning obstacles to local authorities adopting Passivhaus. Please read our Passivhaus & the Climate Emergency blog for more information.
By Adam Harper
Significant changes to energy and sustainability standards within planning were made by the government in 2015 and 2016. These changes included the scrapping of the Code for Sustainable Homes, removing council's power to set building fabric performance standards for housing and abandoning Zero Carbon Homes (though London retains a ZCH policy); all decisions made by the once declared 'greenest government ever'.
These three policies were central to ensuring that new housing in England (Scotland and Wales have retained their sustainability standards) was low carbon and as result there is now a void of government policy in this area. Meanwhile at a local level, sustainability and energy policies varying hugely from council to council. Whilst some councils have approved comprehensive sustainability policies, some are years behind in getting their 'Core Strategy' and associated planning guidance approved. There is no doubt planners are under a lot of pressure, there have been recruitment freezes because of cut backs in recent years, as well an increased number of planning applications.
So the planning picture may look bleak for those of us pushing for the largescale decarbonisation of buildings. Yet there remain many opportunities for planners, councillors and campaigners to promote sustainability in the built environment. Locally determined sustainability standards can and should be written into Local Plans. These could include measures such as cycle storage, sustainable urban drainage systems (SuDS) and landscaping specifically designed to benefit wildlife. Crucially, councils still retain the power to require on-site renewable energy generation for both housing and non-domestic developments. Where councils administer their own council housing or have influence with Housing Associations, there is scope to build to Passivhaus standards.
For non-domestic developments the BREEAM sustainability standard can and should be required in local planning polices, particularly for larger buildings. Councils could have a policy to encourage non-domestic buildings to be constructed to Passivhaus, since the above mentioned policy changes only apply to housing. Eastleigh Borough Councils' emerging Local Plan gives developers a choice; they can achieve BREEAM 'Excellent' or BREEAM 'Very Good' and Passivhaus for non-domestic developments (>500m2 floor area).
I have written a briefing paper in order to help planners and campaigners to determine what is permissible under current government policy and to encourage ambitious sustainability and energy policies. The free briefing is available to download here.
Adam Harper has worked as a Code for Sustainable Homes assessor and has carried out Building Performance Evaluation on a number of Code Level 5/6 and Passivhaus projects. He has recently completed a Post Graduate Diploma at the Centre for Alternative Technology.
Adam is a member of the Zero Carbon Yorkshire Buildings working group, which promotes Passivhaus for local authorities in Yorkshire.